HTOP-38 Riveter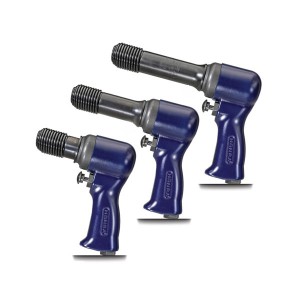 The P-38 series is Honsa's newest and lightest weight riveter offering. This series of riveters improve workplace safety by reducing harmful riveter vibration without sacrificing power or performance. Honsa tools are made in the USA from the highest quality materials available and include a one-year warranty which includes industrial applications.

Honsa offers both traditional steel piston and higher-powered tungsten piston tools. Tungsten piston tools reduce the time required to install rivets, often installing a rivet in half the time of a steel piston tool.

For over 30 years, Honsa has focused on operator ergonomics. The P-38 series is lightweight, compact and includes a custom designed comfortable ergonomic grip that is engineered to properly fit 95% or more of the population.

When combined with our patented low vibration bucking bars, Honsa tools provide the ultimate in ergonomics, safety and productivity.

For help determining the best Honsa tool for your application, contact Honsa at 1-800-800-9371.
| | | | | | |
| --- | --- | --- | --- | --- | --- |
| Model# | Bore | Stroke | BPM | O.A.L. | Weight |
| HTOP-38 2X | 1/2" | 2-1/4" | 2580 | 6-3/4" | 2lbs 9oz |
| HTOP-38 3X | 1/2" | 2-7/8" | 2160 | 7-1/4" | 2lbs 13oz |
| HTOP-38 4X | 1/2" | 3-1/16" | 1740 | 8-1/4" | 3lbs |
| HTOP-38 10 | 9/16" | 1-7/8" | 3200 | 6" | 2lbs 10oz |
| HTOP-38 12 | 9/16" | 3" | 2100 | 8" | 3lbs 1oz |
| HTOP-38 13 | 9/16" | 4" | 1725 | 9" | 3lbs 13oz |
| HTOP-38 10T | 9/16" | 1-7/8" | 3200 | 6" | 2lbs 11oz |
| HTOP-38 12T | 9/16" | 3" | 2100 | 8" | 3lbs 3oz |
| HTOP-38 13T | 9/16" | 4" | 1725 | 9" | 3lbs 8oz |

* T denotes high powered Tungsten Piston

Standard Equipment

HTOP-38 2X 3X 4X
Beehive Retainer 4839
Mech Aid Retainer 4838
HTOP-38 10/10T 12/12T 13/13T
Beehive Retainer 6013
Mech Aid Retainer 6012

Optional Equipment
Suspension Bail HTPR-10 (For use on 10, 12, and 13 Tools)
Isolator HTRB-4X13
Isolator HTRB-3X12
Regulator HTREG-2
Swivel HTO 1/4" SWIVEL

Warranty
Tool Manual - 2X/3X/4X
Tool Manual - 10/12/13
Safety Information
Tool Do's and Don'ts